Frequently Asked Questions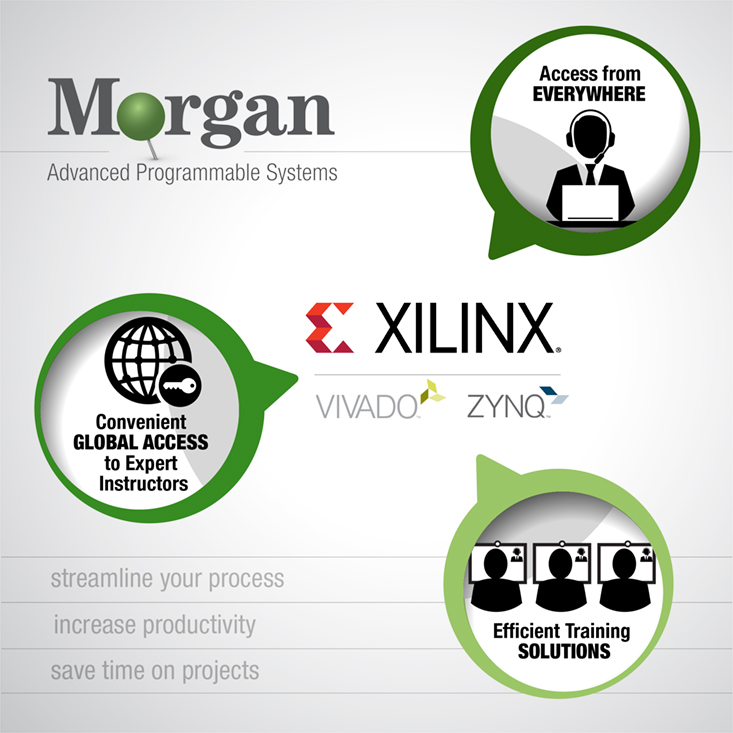 What advantages are there to live instructor led online training over in person training?
The same content is covered in both online and in person training.
You can avoid the cost and hassle of travel.
Training can occur in your office, or the comfort of your own home.
You can use Vivado or Vitis installed on your computer to do the labs, or you can use computers we have setup at on-site via VPN and remote desktop software.
What time zone are the classes offered in?
Typically, classes run from 9:00 a.m. to 5:00 p.m. central time. Custom classes may be offered in the evening (e.g., 5:00 p.m. to 9:00 p.m. once a week for 6 weeks).
What equipment will I need?
Headphones with a microphone are highly recommended, and will be provided free of charge as necessary. In situations where microphones are not allowed, student questions can be asked via the chat feature, or by telephone.
A camera is also required for engineers and the instructor to more closely replicate in person training.  For example, the instructor is better able to gauge when to take breaks, and whether or not difficult concepts are understood.  We have found that this policy significantly improves the quality of the training experience.  If you do not have a camera, Morgan Advanced Programmable Systems, Inc. will lend you a low cost camera, which you can return after the class. The headsets are yours to keep.
What are the bandwidth requirements?
If you're taking the training from home, at least a DSL line should be used.
If you're taking the training from a normal working environment in a small to mid-sized company and you have limited bandwidth, it might be a good idea to ask coworkers to not download or stream files on training days.
If you're taking live online training from a defense contractor with restricted access to video teleconferencing, you can also take the training from a home office or other suitable location.
Any other special requirements?
The labs may be done on our on-site computers via VPN, or on yours.
You may use our cards during those labs that require hardware, or you may use your own card if you're also doing the labs on your own computer.
In most cases, you will want to put a "do not disturb" notice on your office or cubical entrance indicating that you are participating in the online course so that you can minimize interruptions from coworkers during the class.
Before the date of the class, our Training Coordinator will conduct a pre-training online session to make sure there are no technical difficulties.
We have computers all set up that you can VPN into, on site, with cards attached:  ZCU104, ZCU111 (RFSoC), KCU105 (Kintex UltraScale), KC705 (Kintex 7-series).
If you decide to do labs on your own computer, labs will require that a specific version of Vivado is installed on your system, and that is properly licensed. For students who do not have a license, Xilinx offers a free 30 day evaluation license that could be used for the course. Development boards are handled on a case by case basis, and are often not necessary.  It is recommended that students have their own own card if working from their own computer.  However, it is possible to use our cards remotely through a VPN that we have setup to our on-site training network.  We will discuss this during the preliminary setup call.
Contact our registrar or call us at (952) 486-8881 with questions.
When should I register?
Please register as soon as possible.  To provide sufficient time to ship printed materials, please register at least one week in advance.